Custom Designs
(16 Week Lead Time)
Have a project and can't find the look or size you want with our standard Stronghold Iron and Infinity Aluminum products? Our custom work combines the quality and durability of our standard product line with your custom design for a truly unique piece of craftsmanship. Custom designs can be forged in iron or aluminum materials and are available in either Traditional Grade or Signature Grade Profiles.
Please note that there are minimum quantities for all custom orders depending on the type of custom products.
Our custom capabilities include:
Custom Heights

(up to 8ft)

Custom Width Fences & Gates
Decorative Scroll Work
Angled Panels for Steep Grades
Different Finial Tips
Letters or Designs in Gates
Solid Picket Construction
Standard Fence Style Variations
Decorative Medallions
how we work
We create CAD renderings of your custom piece so you can see it prior to production.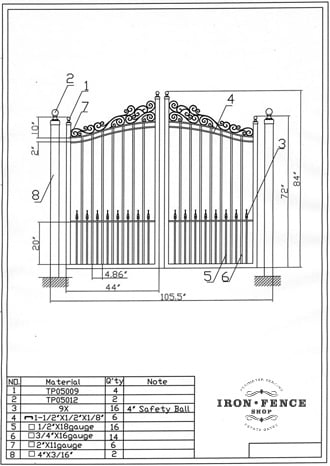 We want to work with you through the custom design process to ensure that our skilled craftsmen make your custom vision a reality. Let us know what you are looking for and our knowledgeable sales team will be quick to get back with you to discuss project particulars and pricing.
Custom work typically has a 16 week lead time starting from CAD approval to it shipping out of our warehouse.
Let's Get Started