We help you choose! As you can see by these photos, both our Stronghold Iron and Infinity Aluminum visually look the same with the only difference being the profile of the horizontal rail.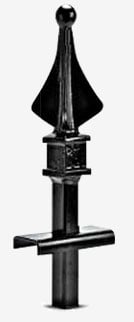 Stronghold Iron
Authentic sand cast iron finials are included as standard on every fence we sell.
Each panel and gate is fully welded for unsurpassed strength & security.
We hot-dip galvanize each component for superior rust protection.
Multistage pretreatment & TGIC fade-resistant polyester powder coat finish.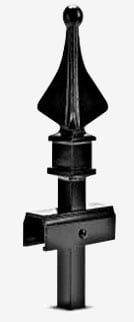 Infinity Aluminum
An industry first! – Cast aluminum finials welded to each picket.
Beveled horizontal rail that adds durability and unique detailing to each of our aluminum fence panels.
Routed post that increases structural integrity and keeps bees & wasps out.
Multistage pretreatment & TGIC fade- resistant polyester powder coat finish.
The most popular questions
"Why do you sell aluminum when your name is Iron Fence Shop?"
We decided to design and sell our Infinity Aluminum for two reasons. First, our customers were always asking for it. They wanted the look of iron with the benefits of aluminum (maintenance-free with a lifetime warranty) while giving ultimate strength for their particular situation.
The second reason we decided to bring Infinity Aluminum to market was because aluminum fencing had become a commodity over the past 10 years and 99% of the products out there were designed to be the lowest price, but in turn the quality and strength suffered greatly. And more importantly none of them looked like Iron!
They did not come with finials and no one in the world would even attempt to weld them on. Not only does our Infinity Aluminum come with sand cast aluminum finials standard but we weld each finial on – giving our customers that classic and authentic iron fence look with each and every one of our aluminum fence panels.
"Should I buy iron or aluminum fence for my project and what is the difference?"
Iron and aluminum both have different advantages and serve different needs. While both are great fence materials, it really depends on what your personal preferences are and what is important to you. Do you want a heavy-duty fence? Do you mind maintenance? Is a lifetime warranty important to you?
We created the illustration below to help customer's choose the product that best suits them when navigating our product pages and we think that it explains the differences pretty well: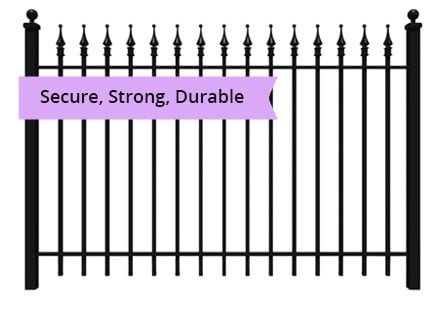 The Stronghold iron customer
Strength is of upmost importance.
Wants a traditional, heavy, all-welded iron fence.
Concerned with security and durability.
Browse Iron Options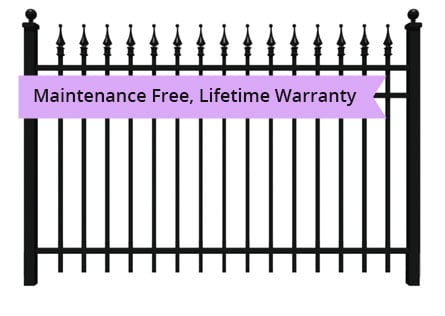 The infinity aluminum customer
Wants to install and forget about it.
Values lightweight fence for install ease.
Yard is hilly or sloped and needs fence to rack.
Browse Aluminum Options